Multi-touch table and wall interactive experiences have been deployed in public spaces, museums, and interpretive centres since pre-2010. Recent studies show that the majority of visitors to the institutions that feature these multi-touch table and wall interactives are still not familiar with them or have not interacted with one before. "Open Exhibits Multitouch Table Use Findings".
This is a bit surprising considering how their popularity is increasing, however, it proves that the technology is still considered fresh and innovative for visitors. On average, these interactive digital exhibits are drawing visitors for longer periods of time than many conventional interactives and they are proving to remain novel to users. They make a great addition that can augment and enhance the overall exhibit experience for visitors of all ages.
Multi-touch tables and walls are powerful all-in-one computers with large built in commercial-grade touch monitors that are engineered for durability and the heavy usage that the general public put on them. They allow the use of multi-touch gestures that we've become familiar with on our mobile phones and tablets, but on screens of a much larger scale.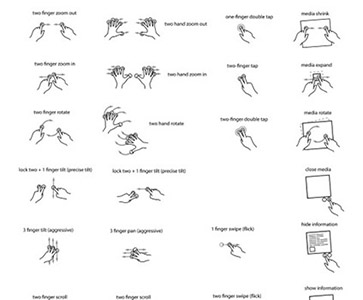 Image: Ideum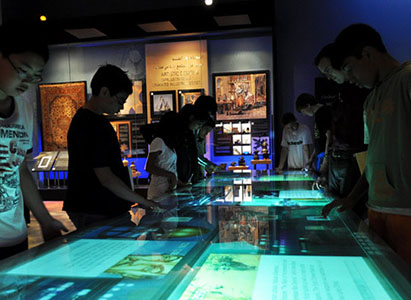 Image: MSTI
The large number of touch input points accepted on these devices and the ability to provide content across a larger display area make it a great platform for developing multi-user learning experiences that are engaging, more social, and co-operative in nature. These interactive experiences allow groups to explore and learn digital exhibit content together yet gives the visitors the ability to muse and interact independently of each other at their own pace. And as typically is the case with digital media, children are quickly drawn to the multi-touch displays, wasting no time getting familiar with the interactive content and learning all the multi-touch gesture possibilities.
Blending educational / interpretive content into a game (or simply a gesture-based interactive) experience for this type platform is a fun, yet effective method of communicating concepts and stories to visitors. Creative methods of layering and presenting interactive content for the user experience piques curiosity and encourages discovery. These multi-sensory interactive digital experiences can be quite engaging; combining meticulously crafted digital imagery, illustration, animation, and video that are responsive to touch interaction at very high resolutions. With the technology today we can provide HD, 4K, or even 8K resolutions along with audio and sound effects. The hardware and processing power of these multi-touch table and wall platforms allow for graphically-intensive applications that exceed what's possible on mobile devices as well as allowing for many more simultaneous touch inputs.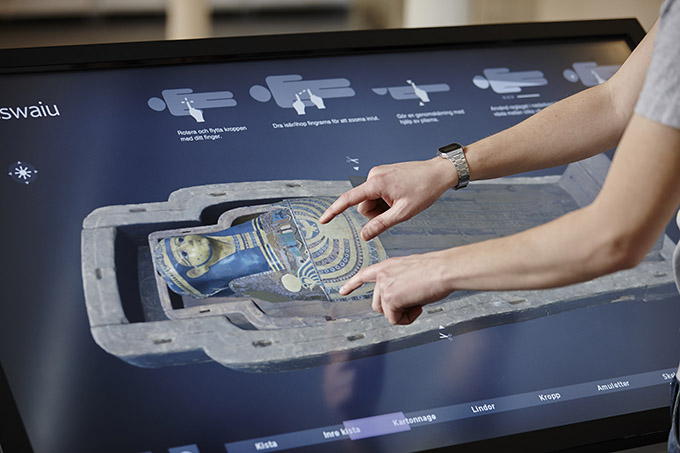 Image: Autodesk
Some benefits of multi-touch table and wall interactive experiences include:
Social learning experiences including sharing of discoveries and perspectives.
Common understanding and connection through collaborative interaction.
Engaging and entertaining interaction with multi-touch gestures that enhance user experience.
Ability to implement detailed visuals and media with other creative content for game and learning experiences.
This large multi-touch table in Portsmouth allows visitors to explore the vast museum archive through an interactive timeline. It tells the history of the 'modern' Royal Navy – since 1900. The seascape in the middle illustrates the evolution of naval technology and design through interactive animations.
The multi-touch interactives for the "Native American Voices" exhibition at the Penn Museum have extensive amounts of stunning video and imagery woven seamlessly into them. The intuitive user experience allow users to easy navigate through layers of content to the level of info they are interested in for a more personal, self-curated experience in the exhibition.
The Records of Rights exhibit at the David M. Rubenstein Gallery at the National Archives is a multi-touch table and wall experience that draws on the Archives' extensive collection of historic documents, images, and videos to share the history of the American struggle for freedom. The experience immerses visitors of all ages in the quest for justice and equality in the United States.
These interactive digital exhibits are great for visual-based learning experiences where less text is required however they are also effective for layering content (including text) in creative methods. Users are typically drawn to the high level of interaction and visuals that multi-touch tables and walls can provide which make it an attractive option for any institution looking to engage their visitors with extraordinary digital experiences.