You've likely heard about how virtual reality (VR) is sweeping various industries and sectors—including museums and heritage sites—with state-of-the-art immersive interactive experiences. Last year was the breakout year for VR. After years of rumors about the next generation of hardware and applications, a solid lineup of VR headsets was released from some of the biggest names in tech. The latest VR technologies allow for the creation of realistic and immersive digital environments with dynamic visuals, audio, and elements that users can experience and interact with. The medium has the inherent ability to bring pieces of history, artifacts, simulations, and stories to life with considerable realism.
Now that we've have had more time to explore the capabilities and get a feel for the initial wave of VR, you may be wondering if VR headsets and experiences truly live up to all the hype, not to mention whether they are a suitable consideration for digital interactive visitor experiences in museums as well as cultural, heritage, and science centers. If the momentum, engagement, and feedback for the quality of content being produced for VR experiences in the last year are any indication, then the answer is a resounding yes. The virtual reality medium has taken off for good reason. Many of the issues from VR's earlier days—such as users feeling motion sickness—have been resolved, and the new graphics capabilities provide for stunning realism. The level of graphics detail and the realization of seamless 360-degree immersive experiences are every game and interaction professional's dream come true. The adoption rate and effectiveness for these types of interactive experiences have proven its strengths and the visitor interest in VR applications in the museum space.
Image: The Metropolitan Museum of Art
Having the opportunity to be among the first to dive in with some of the top-end VR platforms as they've been released has been exciting and it has given Ambient Interactive a head start on developing digital applications of this nature. We have high expectations on various levels when it comes to next-generation experiential and interactive technologies. Hardware and software capability and functionality, durability for public usage, performance, HCI, and overall handling in delivering a custom-crafted digital interactive experience are just some of the factors we consider. The platforms we've worked with have met these expectations, and VR delivers an experience as close to a virtual world as we've seen for immersive AV. It has the inherent ability to transport users to another environment with far-reaching storytelling and educational applications.
Having spent time with the latest VR platforms we can confirm that VR is ready. The potential applications for it in the museum space are plentiful and are merely awaiting great content and storytelling to unleash their potential. VR and the applications that we produce have the innate ability to allow users to experience anything you can dream of, such as cultural and heritage artifacts and stories, animals and prehistoric creatures in their habitats, military simulations and battles, archaeological sites, science-based interaction (and the list goes on), in digital worlds that feel incredibly large yet are small spatially. It can be attractive for an exhibit gallery where space may be limited or occupied by important collections. VR can also go beyond a museum's walls by allowing users anywhere to visit virtual exhibits though the use of mobile-driven headsets and apps.
The Submarine VR Experience we produced for the Naval Museum of Alberta is one such digital interactive that is a fitting application for VR for a museum. The fully immersive simuluation allows visitors to experience what it was like on a WWII submarine as they peer through the periscope and engage in an attack on a convoy of ships.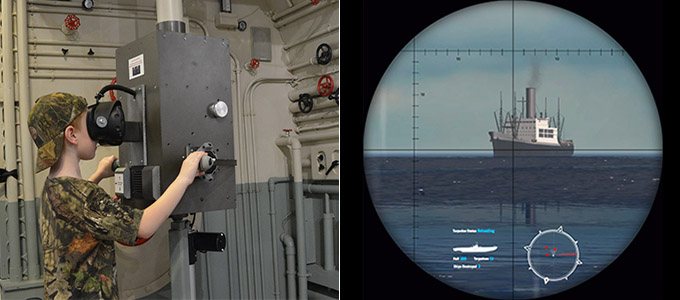 VR is as close to being there as it gets. It provides many possibilities for blending education and entertainment into an immersive, interactive form that could disrupt some traditional interactive methods in the years to come; however, we look at it as another effective technology to add to the mix for digital experiences. At this time, VR experiences in museums and public spaces are far from ubiquitous, so they make for great visitor attractions not only for the tech savvy but for all types of visitors and age groups.
We're excited to be working with virtual reality and producing next-generation content that engages and educates visitors by realistically transporting them to places and times in the past that they could otherwise only dream about. VR is poised to reach new heights as a wealth of new applications are being realized. It's only going to get better with more features, so put on your headset, grab your controller, and enjoy the ride.